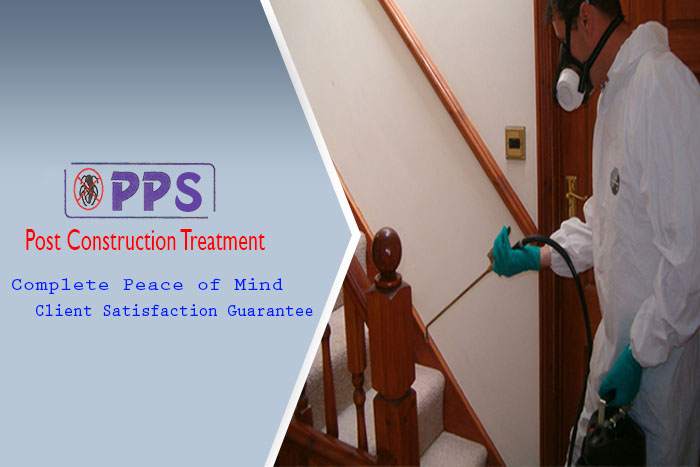 POST-CONSTRUCTION TREATMENT :-
The Termites can appear in the house also. In this method (British Method) we drill holes by drilling machine, inject powerful anti termite chemicals and then seal them. In this case, waste no time in calling us. We shall treat the area by the best method. This treatment is called as major treatment followed by check-up services during the period.
If there is loose soil around the walls of your building, we dig a shovel width trench close to the external wall of the building exposing the foundation wall surface upto a depth of 50cm./li>

If there exists a concrete cover or masonry apron around the walls of your building, holes are drilled as close as possible to the plinth wall about 300mm (1ft) apart from each other.


Insecticide is then poured, so that it reaches the soil to eliminate the termites present there and to stop them from re-infesting.


If your building is on pillars, the holes are drilled around the pillars and insecticide poured into the soil.


Further, on all floors, wood work like doors and windows, which are highly susceptible to termite attack are also protected by treatment.


Spot treatment of spraying on infested areas in the walls and ceiling is also carried out.
Warranty :-
10 Years - In case of comprehensive Anti Termite pest control treatment of the entire building, we give a warranty of five years. Any re-infestation of termites during the warranty period is treated without any extra charge.
Frequency of Check Ups -
After initial termite pest control treatment a check up of the entire building is carried out every month for the first six months. A check up is carried out once every six months for the next four years. Intimation will be given in advance by post about the time of arrival of our operators. The check up visit is to find out whether there has been any re-infestation of termites. Necessary treatment will be carried out in case of re-infestation. You can call us as and when there is re-infestation during the entire contract period of five years.